Dear Madam, Dear Sir,
As a manufacturer of nutraceuticals / health products, baby milk powder, adult milk powder and industrial milk powder, we would like to expand our products internationally.
For the realization of our objective, we are looking for a long-term cooperation with national importers/distributors, who are specialized in supplying such products in the following areas:
Europe, Asia, Africa, North America and South America 
Baby Milk Powder
LACsell baby milk powder is arguably one of the most beneficial baby milk powders on the market today. Regulations for the production of baby milk powder in the European Union (EU) are already some of the most stringent regulations in the world. LACsell goes even further in its quest to provide the very best formulas possible for infants and babies throughout their developing years. Of course, long breastfeeding is highly recommended in regard to the development of the child's immune system due to the valuable ingredients of breast milk.
APTILAC 1 Infant milk (0-6 months) balances the proportion of high-quality immunoglobulins by the addition of bovine Colostrum (first milk), thus contributing to the formation of a healthy, long-term active immune system of the infant and its further development. An added advantage of our APTILAC 1 (0-6 months) is that we include an amount of bovine Colostrum (first milk), which provides immunoglobulins, essential to the forming of a healthy immune system in babies.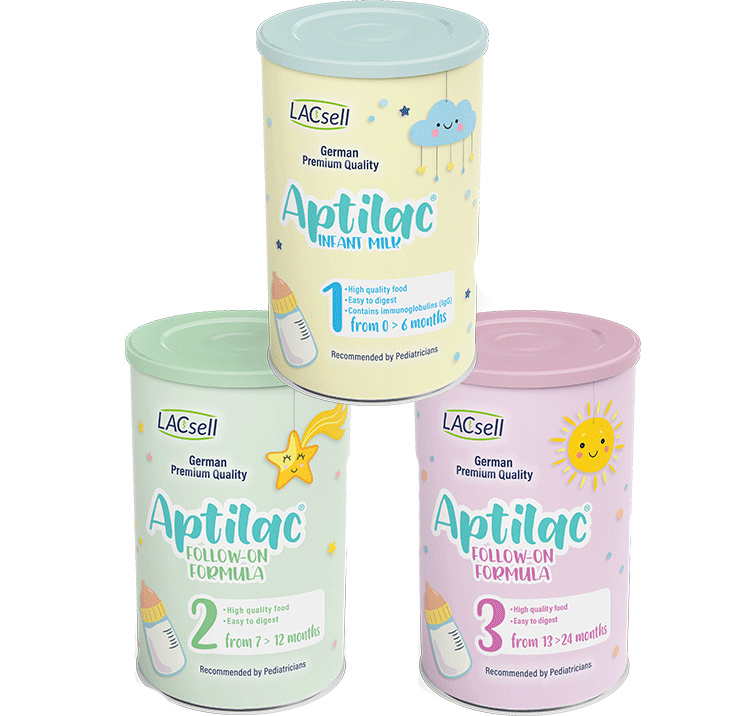 Milk Powder for Small Children, Children and Adults
LACsell offers nutritional milk powder for all age groups after childhood. This milk powder can be supplied in handy metal tins, or in bulk quantities, delivered in 25kg bags.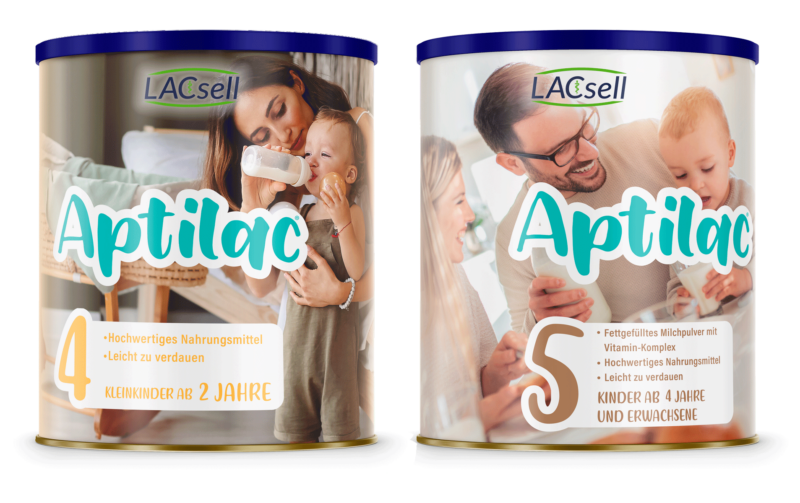 MilkLACsell – Energy Power Mix
Rich protein mix for regeneration of especially stressed occupational groups
Industrial Milk Powder
LACsell  industrial milk powders are made from skimmed milk, full milk and vegetable fat filled milk. These milk powders are used for the production of creams, glazes, yoghurt, ice cream and  other confectionery products. Filling and delivery are carried out under strict hygienic conditions in plastic coated bags of 25 kg.
| | |
| --- | --- |
| LACsell milk powder 20% Protein | LACsell milk powder 34% Protein |
| LACsell full milk powder 26/15 | LACsell full milk powder 26/25 |
| LACsell fat filled milk powder 28/15 | LACsell fat filled milk powder 28/24 |
| LACsell sweet whey powder | LACsell demineralized whey powder |
Nutraceuticals/Health Products
The LACsell nutraceutical line of pills and capsules includes products, which are in some cases unique worldwide. All of the products are packaged in hygienic blisters. The basis of all of these products is 100% purer Colostrum. Below are six reasons why LACsell's Colostrum products are so special.
LACsell ® Colostrum products do not contain any preservatives.
LACsell ® Colostrum products are guaranteed free of antibiotic and hormone residues.
LACsell ® Colostrum products contain natural ingredients – 100% pure Colostrum, as well as valuable vitamins, minerals and trace elements.
LACsell® Colostrum products are protected, branded products of the highest possible quality.
LACsell® Colostrum products are offered in family-friendly packaging sizes.
LACsell® Colostrum products have an excellent price-performance ratio.
We would like to welcome you as our future business partner.
Become our partner now. We are looking forward to meeting you.
With kind regards
Robert Stewart
International Sales Manager
Telephone: Phone: +33 6 07 95 46 87
E-Mail: bob.stewart@lacsell.de